We briefly introduce manufacturing processes at our respective factories.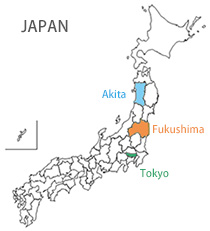 Processes

Fukushima Factory
Our Fukushima Factory established in 1973 undertakes the initial process of roughly polishing optical glass to form shapes of final products as optical devices.

Location
Postal Code 962-0512
10-243 Aza-Ohyama, Ohaza-Hannou, Ten-ei-mura, Iwase-gun, Fukushima Prefcture
TEL:81-248-83-2135 FAX:81-248-83-2172
Main work
Rough polishing
Equipment
Processing machines
Cutting machines
3
Flat-surface grinding machines
9
Inspection machines
Auto-collimators
1
2-D measuring instrument
1
Dimension measuring instruments
52
Multi-purpose projectors
1
Factory site/building area
Land 5,000/building 997 square meters
ISO certifications acquired
ISO14001、ISO9001
Akita Factory
Our Akita Factory established in 1991 undertakes the processes of polishing (a process to create optically precise surfaces on glass surfaces), coating (a process to enhance the added value of prisms), assembling and cementation/bonding.

Location
Postal Code 019-2611
120-21 Aza Nanamagari-dai, kawabehejima, Akita City, Akita Prefecture
TEL:81-18-882-2995 FAX:81-18-882-2048
Main work
Polishing, coating, assembling, cementing
Equipment
Processing machines
Flat-surface grinding machines
9
Polishing machines
22
High precision one-side wrapping machine
1
High precision one-side polishing machine
1
One-side wrapping machine
1
Both-sides polishing machines
2
Cutting machine
1
Ultra-sonic cleaning machines
6
Vapor deposition machines
6
Spatters
1
Sensor cementing devices
3
Automatic dispensers
1
Inspection machines
Optical axis inspection machines
2
Auto collimators
28
2-D dimension measuring instruments
5
Dimension measuring instruments
6
Multi-purpose projectors
1
Laser interferometers
2
Fringe pattern analyzing instruments
1
Laser microscope
1
Stereoscopic microscopes
4
Spectral photometers
2
Clean rooms
Film-forming rooms(Class 10,000)
2
Inspection room(Class 1,000)
1
Clean benches(Class 100)
2
Factory site/building area
Factory site 10,000/Building 2,406 square meters
ISO certifications acquired
ISO14001、ISO9001