Message from the president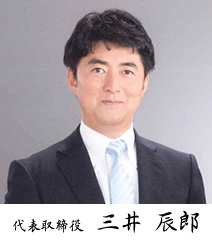 We are embarking on a new era when new optical technologies prompt development of all industries, eventually contributing to the development of society and culture. The market for quality optical devices that support the current information society with optical communication systems, optical disc media, high image-quality digital imaging, surveying, medical and scientific research is expected to grow further in the near future. Maintaining precision and stabilized supply capacity of prisms that support those systems is becoming important more than ever.
Our company having a history and achievement of 55 years since establishment received the ISO14001 recognition in 2004 and the ISO9001 recognition in 2006. We at Mitsui Optical are committed to seek challenges for new technology development to respond to customer trust as the world's leading runner in the field of prims making technology, continuing to supply high-quality and high-precision products the new era requires.
About the logo mark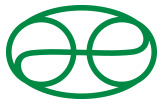 Our company started from the business of making optics for binoculars. Genzo Mitsui, the founder of our company, designed the logo mark by combing the infinity mark and the first character of the company name Mitsui in Japanese. He decided to put this logo mark on packages of all prism products to let people know "Mitsui is a quality prism maker".
Motto
Always look up.
This is the motto and a key factor involved in all corporate behavior standard. All employees at Mitsui are recommended to take on the challenge of enhancing their own skill and product quality without fear of failure.
Mitsui's strong points in development and manufacturing processes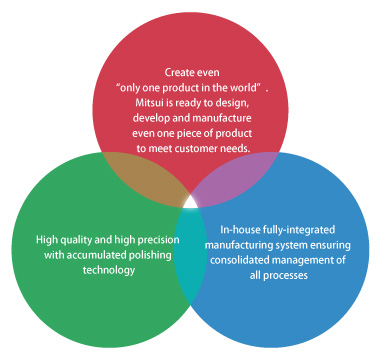 Mitsui makes even "only one piece of product in the world"
In order to meet customer needs, we accept even an order for just one piece of product, starting from product development. We will be pleased to listen to any request, working hard on realizing the ideas of our customers with our development capability.
High quality, high precision
Our engineers who are proud of their polishing skill have been working hard on enhancing their research and development capability in the optical industry that has been constantly advancing. Our history as a supplier of quality optical devices for more than half a century symbolizes the trust of our customers in our product quality and technological competence.
In-house fully-integrated production system – our strength
All manufacturing processes from polishing of optical glass to shipments are performed in our own factories, through a consolidated management system. Promptness and flexibility – these are the key words we can boast as our strong point.