Advanced technology Mitsui boasts to the world
High-precision polishing technology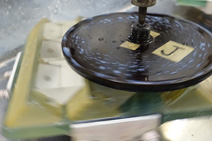 Mitsui Optical is capable of performing high-precision polishing of prisms and flat glass plates made of a wide variety of optical glass materials. Polishing optical components made of such special soft glass materials as the ones containing lead is very much difficult but Mitsui Optical is capable of assuring stabilized supply of such high-quality optical devices. In addition, Mitsui has complete effluent drainage water treatment facilities to meet strict environmental requirements.
Also, Mitsui Optical is ready to supply high-quality prisms that meet customers' needs, by commanding pitch-polishing technology accumulated for decades since the establishment of the company in 1951.
Coating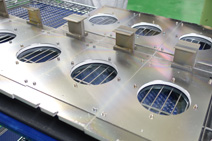 Mitsui Optical has capability of meeting needs for a variety of optical components ranging from advanced thin dielectric film products to metal membrane products. Since Mitsui has fully-equipped facilities to promptly complete all processes ranging from prims polishing and LT-management to coating and feeding of defect data back to the management, stabilized supply of high-quality products can be assured.
In particular, our products such as ARND (Anti-Reflection Neutral Density) filters with high reliability and highly flat characteristics and dichroic film products used in multi-plate color separation prisms with less shading thanks to their angular-dependent characteristics are highly evaluated by our customer.
Cementation -Optical Contact Bonding-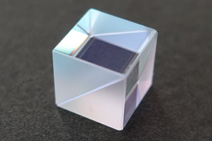 Mitsui Optical has the capability of supplying a wide variety of cemented (air-gap cemented) optical components ranging from beam splitter cross prisms to multi-plate color separation prisms.
In addition, Mitsui Optical has successfully completed development of advanced technology including optical contact bonding technology using no adhesive agent, so Mitsui is ready to meet needs of various customers.
Sensor cementing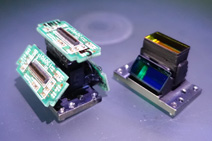 Mitsui Optical has completed development of technology for bonding image sensors and multi-plate color separation prisms together. Because of the development of sensor technology in the recent years, the market for multi-plate color separation prisms has become a niche market. However, they are still regarded as essential devices in advanced systems that must deliver high quality images. The technology of cementing precision optical components in the sub-micron order is core technology Japan boasts to the world. Mitsui Optical is ready to supply high-quality precision optical devices even in small quantities, by commanding the core technology and leveraging the strong point of having a fully integrated manufacturing system starting from prism polishing.