Interview with engineers
Introduced here are comments by engineers working at Mitsui Optical's actual manufacturing sites for creating high quality and high performance products.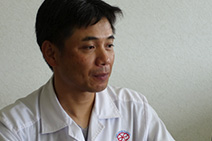 Mr. Yanagihara
General manager
Manufacturing Department
Mitsui Optical Manufacturing
Multi-faceted polishing technology
We are ready to meet various needs of a wide variety of customers by commanding our multi-faceted polishing technology.
At Mitsui Optical, we are capable of responding various specifications and a wide variety of shapes of optical devices, by commanding advanced processing equipment ranging from Oscar polishing machines and both-sides polishing machines to cutting-edge high precision one-side wrapping/polishing machines.
We believe this is what we can boast to the world – a manufacturer having both fully-experienced veteran artisans with accumulated knowhow as well as young challenging engineers now acquiring advanced pitch-polishing technology, commanding highly productive pad-polishing technology at a high level.
Sticking resolutely to ultra-high quality
In order to make products featuring high-quality coating, it is naturally important to acquire coating technology at a high level but what is important at the same time is ensuring high quality from the polishing process. We at Mitsui Optical believe that ensuring sufficient management of the quality of glass plates serving as bases for coating is the royal road to enhancing coat quality. We are working hard on enhancing our capability as a quality optical product manufacturer who can make the maximum use of the advantage of a fully integrated manufacturing system that is supported with LT-management of coating and defect information feedback.
In-house fully integrated manufacturing system
Our company has an in-house fully integrated manufacturing system covering all processes ranging from polishing, coating and cementing to image sensor bonding. Our management team has insisted on the principle of "start-to-finish in-house production system" for years, and recently decided to start manufacturing multiple-plate-system prism units in addition to high quality components such as optical contact products and AR (Anti-Reflection) ND (Neutral Density) filters. We are working hard on changing our company from a simple optical product maker to a maker of quality precision prism units.